Blackhead Remover Instrument Black Dot Remover Acne Vacuum Suction Face Clean Black Head Pore Cleaning Beauty Skin Care Tool
Blackhead Remover Instrument Black Dot Remover Acne Vacuum Suction Face Clean Black Head Pore Cleaning Beauty Skin Care Tool
Features:
For acne, and pimple skin treatment.
To polish, to rough holes, to fine lines.
Promote nutrition absorption, and promote skin metabolism.
Diamond design sense, ergonomic handle, comfortable.
Treatment for sagging skin and wrinkles, skin Rejuvenation.
EFFECTIVE AND SAFE: The blackhead vacuum uses innovative vacuum adsorption technology without hurting your skin. This blackhead cleaning tool is more convenient and effective than using a facial mask or acne needle. 
3 LEVELS OF SUCTION POWER: The pore vacuum is designed for a variety of skin types.
Strong suction, Suction strength is adjustable, effectively sucking out the nose blackhead and acne. The suction power is bigger than the traditional blackhead suction machine.
Instructions:
1. Apply a hot towel or blackhead to the skin of the face, keep it for 5-10 minutes, open the pores, and soften the skin;
2. Select the tip you need and install the tip on the main unit;
3, Slowly move on the skin of the face, please do not stay in the same position for too long, to avoid skin red and purple;
4. After cleaning, wash with cold water, apply mask, use emollient products properly, keep your face moisturized
Specification: 
Material: ABS + PP
Charging way: USB
Rated voltage: 5V 1A
Rated power: 3W
Charging time: 3 hours
Using time: 2.5 hours
Color: White
Size: 16*4.3cm
Weight: 150g
Package content: (Pack in box)
1 x Blackhead Remover
1 x USB charging cable
5 x Probes
2 x Rubber rings
5 x Filter cotton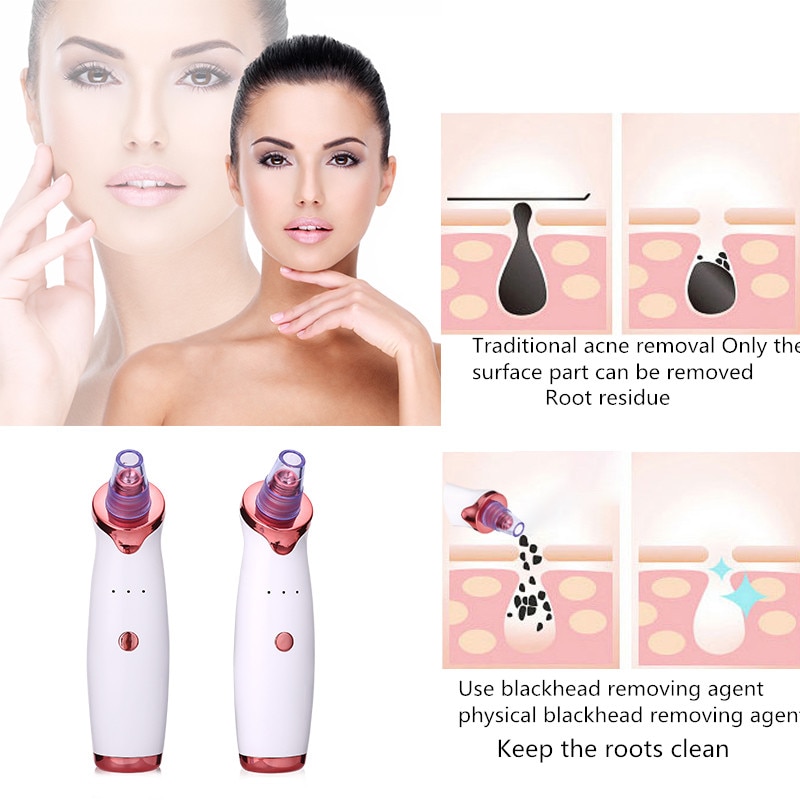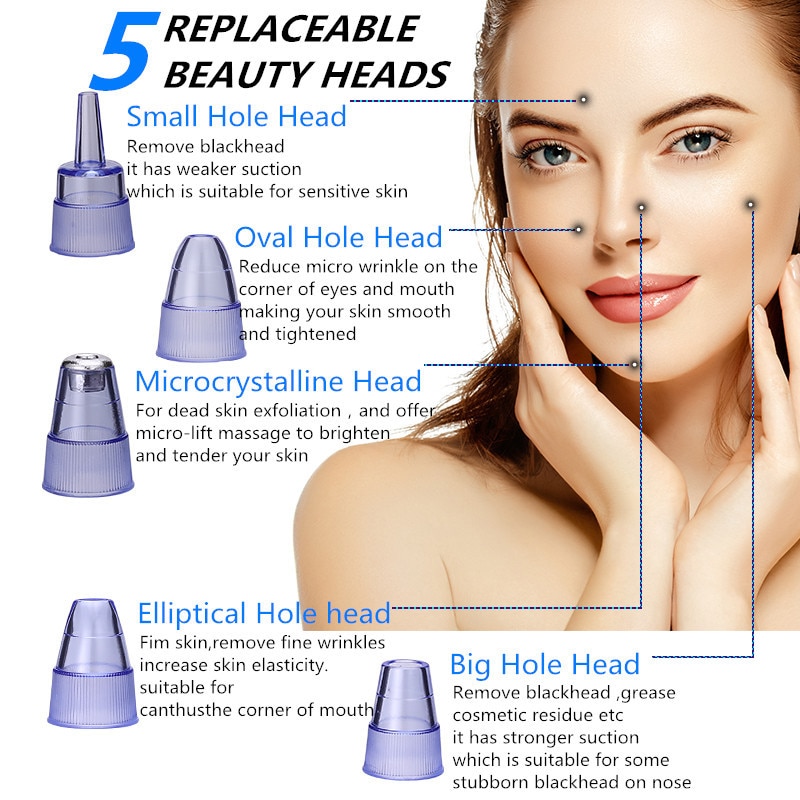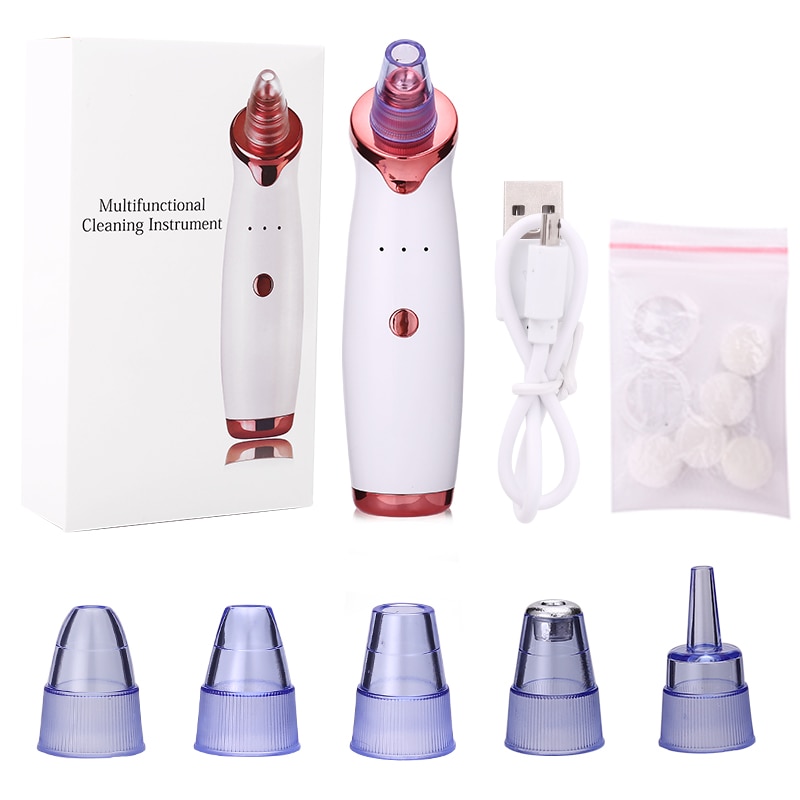 Product Information:
Color: Black
Battery capacity:400 mA
Powder:3W
Package Included:
1 X Blackhead instrument
1 X USB charging
6 X Suction head
Features:
Blackhead removal, pore cleaning
3 modes are suitable for all skin types(Dry skin/Oily skin/Normal skin)
6 advantages: Suction black head, Reduce blackheads, Pulling tight, Reduce fat, Reduce fine lines, Improving horniness
6 suction heads, suitable for all parts of the body
High-Definition LCD Display
Use healthy non-transparent suckers
Care for sensitive skin
---